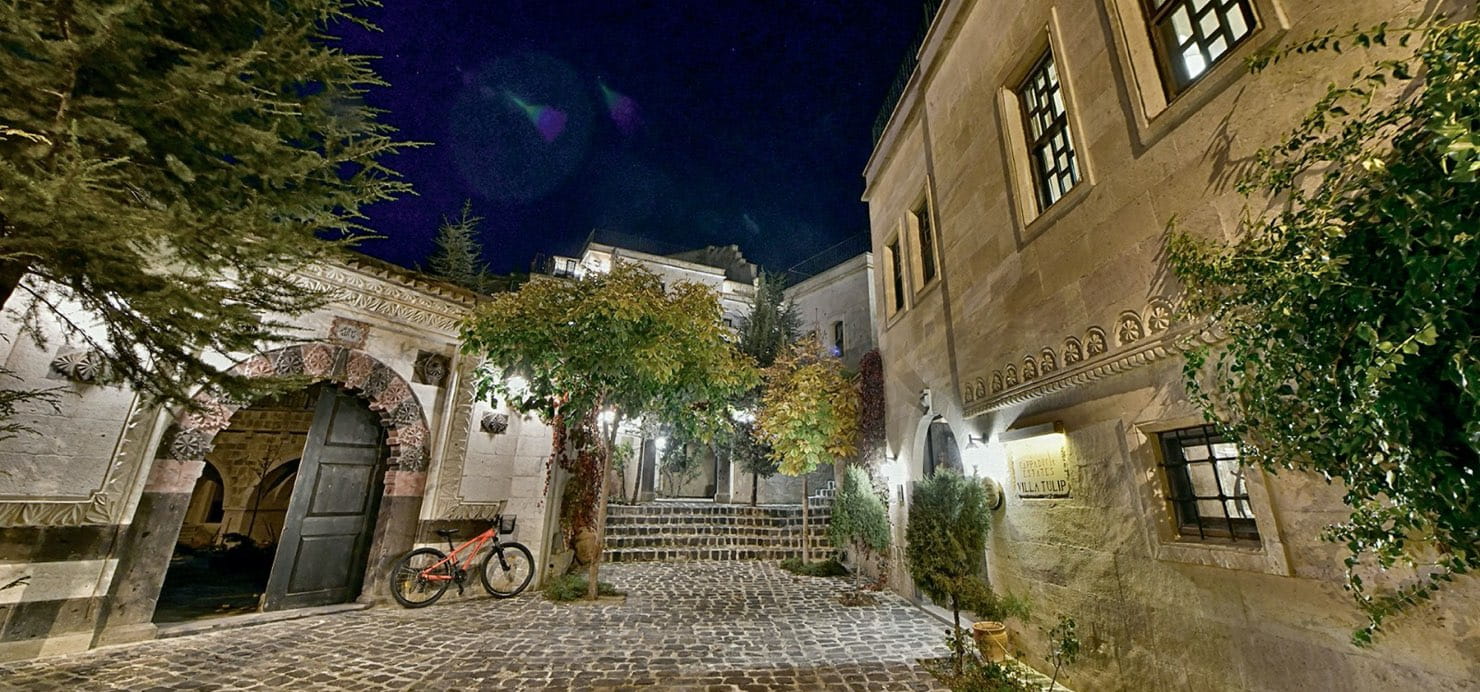 - STORY OF CAPPADOCIA ESTATES -
Cappadocia Estates started from scratch years ago with a clear concept: offer contemporary comfort in a village setting that is deeply connected to local life and real people. Our dream was a major undertaking that brought together a diverse group of urban planners, architects, technicians, and masons; our unified goal was creating an invisible, modern infrastructure of accommodations while simultaneously preserving its rare, fragile authenticity. Our project was far beyond a simple architectural facelift: Centuries-old facades were restored to their original appearance and intricate details, while the tufa-rock caves were redesigned to provide ultimate comfort and modern amenities.
Unlike a traditional hotel with its narrow corridors and lack of outdoor spaces, Cappadocia Estates was historically designed – and continues to be – a place of individual houses and mansions, each with its own abundant space, and private space — both inside the rooms and suites as well as outdoors.
In every corner there is utmost attention to detail and refined curation of artworks. The fine art collections of Cappadocia Estates include original wood-prints of renowned Turkish painters Bedri Rahmi and Eren Eyüboğlu, while ebrus – a complex Turkish art of paper marbling – created by Hikmet Barutçugil and Birzan are displayed throughout the hotel and guest rooms. Antique furniture and mirrors add to the authentic Turkish décor.
Cappadocia Estates is more than a "pretty picture:" it is a comfortable hotel offering guests amenities familiar to home, with deluxe mattresses and bedding, comfortable chairs and furnishings, and well-designed bathrooms outfitted for ultimate luxury and relaxation.
While considerable work and effort has gone into this engaging retreat, its setting is also memorable. Also known as Sinasos ("city of the sun") in ancient times, Mustafapaşa – where Cappadocia Estates is located – is a rare find: It is as close as you can get to local life in Cappadocia, with the entire village under preservation for its architectural authenticity. Its cave dwellings, churches, and stately mansions hidden behind intricate stone facades transport you back in time…
Join us in our Cappadocian journey for an unforgettable memory ...
Cappadocia Estates Hotel proudly holds a "Special Class" license issued by Turkey's Ministry of Culture and Tourism. This is a unique category created for out-of-the-ordinary, historic, and exquisite properties that meet and comply with strict criteria.Only 4% of more than 14,000 hotels in Turkey have been honored with this license.