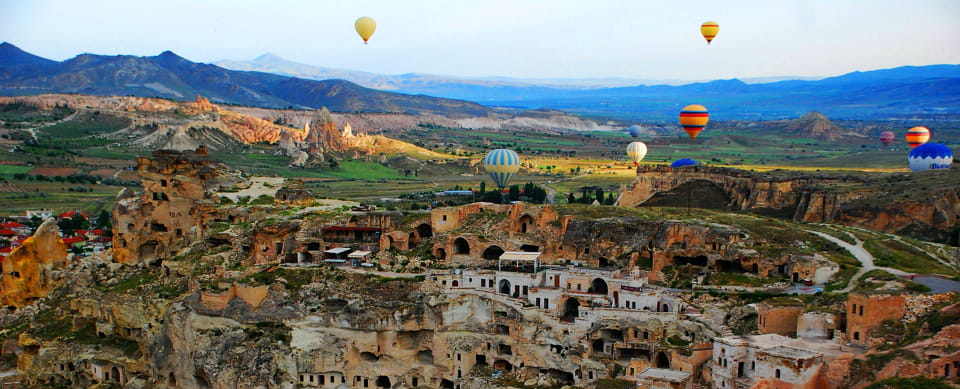 - TOURS -
Let us help you experience the best of Cappadocia!
We can provide you either with a customized private experience or book you on a group tour with a reliable provider.
To make it easier, we've color-coded three popular routes covering the major highlights of Cappadocia: Blue, Green, and Red.
BLUE ROUTE
Three Beauties Fairy Chimneys, Ürgüp
Mustafapaşa (Sinasos) Village
Keşlik Monastery
Sobesos Ancient City
Lunch
Derinkuyu Underground City
GREEN ROUTE
Panorama of Göreme
Derinkuyu Underground City
Selime Monastery & Village
Lunch
Pigeon Valley
Valley walk through Ihlara
RED ROUTE
Panorama of Uçhisar
Göreme Open Air Museum & Rock Chuches
Panorama of Love Valley
Lunch in Avanos
Demo on potter's ancient kick wheel
Dervent –imagination- Valley
Fairy Chimneys of Pasabag Valley
PRIVATE & CUSTOM MADE TOURS
Cappadocia is a traveler's dream destination. Its amazing diversity appeals to a wide array of interests – whether it's spending time in nature, enjoying photography, learning about the area's impressive geology, delving into the early origins of Christianity,
and more.
Private and customized tours offer you the ultimate experience of seeing and exploring Cappadocia that is specifically tailored to your personal interests, expectations, and pace.
Here are some ideas to inspire you
Photography
Rock Churches and Cappadocian Church Fathers
Nature walks and discovery in off the beaten path valleys
Soğanlı, Ihlara, Gomeda or Gibos Valleys
and more
Wine Tasting and Winery Tours
Horseback Riding Tours
A day with a master potter in a workshop, learning the history and materials used to make pottery and then creating your personal works (to be fired and shipped to you)
And more…

We can provide a private guide and/or a vehicle; the choice is yours.
Please contact us for more information, prices, and to book.
All concierge services are provided by SRM Travel, TURSAB license # 3543